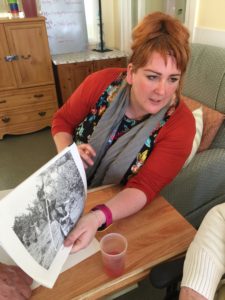 If you have been following us on Facebook recently you will have seen some recent posts that concentrate on the activities we offer here at White Rock. Regular training days with Dementia Care Experts give us access to a wide range of resources that are designed to help our residents to maintain their dignity, language skills and sense of self.
White Rock works to create a whole home approach to dementia care so that everyone who comes into contact with our residents is able to engage them in conversation about their interests, family and friends.
One of our most touching and successful aids allows our residents to create a scrapbook with key information about their life. One half has information, photos and mementoes about their interests and family before coming to White Rock; while the other shows life at White Rock, with all its activities, events and outings . The scrapbook helps carers, nurses, visitors to talk about these with our residents, share memories and pick out issues that may be concerning them.
Alongside the whole home approach, White Rock has made changes to the look and feel of the home. We are following research undertaken by the University of Bradford into dementia care. All our residents on the ground floor have brightly coloured doors with their names clearly marked. Interactive buttons provide music or birdsong. You may have spotted some of our doors are painted the same colour as the walls. This visual cue helps prevent our residents from walking into the staff room or office areas.
White Rock encourages the use of gardens or the garden room as exposure to light is also vital for people with dementia. The circadian rhythm is often lost, meaning patients can become agitated and restless when the sun goes down – a process of known as 'sundowning.' Sunshine is vital to boost and maintain mood.
So many of our carers, relatives and friends report a sense of loss once a loved one has been given a diagnosis of dementia as it breaks down so many communication routes. By engaging our residents with a planned activities programs that is built around their interests, we aim to ensure stronger links with relatives and friends, as language and reasoning skills are maintained.
(all photos are used with kind permission of family and residents)
www.whiterocknursinghome.co.uk
*Dr Sara Ahmadi-Abhari, lead author, University College London – published British Medical Journal (BMJ 2017)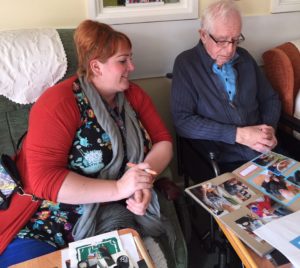 For more information about the reseach at Bradford University – please read more here.
For information about latest legislation on dementia friendly homes – please read more here.